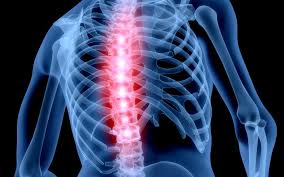 Inflammation has become a buzzword in the health and wellness field lately, as it is a major contributing factor to many chronic illnesses – especially cardiovascular conditions. These chronic illnesses, we know, are taking most of the lives in America. Inflammation is also a major contributing factor with chronic pain, specifically back pain. So what is inflammation? That question can be broken down so many different ways. Let's stick to the basics today. Simply put, inflammation is the body's chemical response to a foreign stimulus. Depending on the type of stimulus, inflammation may take many different forms. The two forms I want to focus on are local and systemic inflammation.
Local Inflammation
Not all inflammation is bad, of course. A type of local inflammation can protect and heal the body after injury or infection. Think of a sprained ankle or a cut to the skin. The tissue becomes damaged (foreign stimulus), and a biochemical reaction occurs which signals the body to increase blood flow to that area. Through this process, there is increased recruitment of white blood cells, which help heal the damage tissue and fight off other foreign bodies that may have been introduced to the area as a result of the injury. While this process may temporarily be painful, this is a normal, natural form of inflammation that is necessary for the body to stay healthy.
Local inflammation should not be ignored completely, however, as it also can be a factor in chronic pain. When it comes to back pain, this local inflammation can be a result of joint dysfunction. When joints get stuck and are unable to move properly, they can get inflamed and painful. In this situation, a chiropractic adjustment can be the ticket to pain relief, as it will help restore proper motion to a restricted joint, and result in decrease in local inflammation.
Systemic Inflammation
Systemic inflammation is the other kind of inflammation – the not so natural, not so healthy kind that can have long-lasting effects on our body. This is known as systemic inflammation because it affects our body as a whole, not just a specific area like a sprained ankle or a cut. Where does this come from? Most of the time, the problem is in our gut – specifically, the intestines. The intestinal wall is designed for absorption of nutrients and fluids, but there is no way for the intestines to filter out all of the chemicals, toxins, bacteria, viruses, etc. that are also found in the foods we eat. When these things (foreign stimuli) are absorbed through the gut and access the bloodstream, this is known as leaky gut syndrome.
As more of this exposure to foreign bodies occurs due to leaky gut syndrome, the body begins to respond with inflammation. This inflammation occurs in the gut, but remember the foreign bodies have entered the bloodstream and have traveled throughout the body as well. These inflammatory triggers are therefore cycled through the entire body and begin to affect nerves, blood vessels, organs, connective tissue, joints, and muscles. Inflammation throughout the body has been linked to most chronic diseases, including heart disease, cancer, and diabetes.
The best way to address leaky gut syndrome and systemic inflammation is by treating the cause – diet. By avoiding foods with added chemicals, sugars, and toxins, and consuming a mostly whole food, unprocessed diet, we give the gut a chance to heal itself. Introducing probiotics through fermented foods and supplementation also helps providing a stable environment for the gut to repair itself and stay healthy. Eating plenty of healthy fats and supplementing fish oils will treat inflammation outside of the gut in the rest of the body. Sure, taking anti-inflammatory medication will reduce inflammation as well…but would you rather treat the cause or mask the symptoms? For me, it's always about attacking the cause first. Ask how we can help!
Yours in Health, Dr. Alex